Such a wonderful moment! 

?

?
A really beautiful and funny sight for an amazing morning and which helps you start a unique day.The Queen's horses are being led from Regents Park on route to Horse Guards parade and these are the Royal Horses of Queen Elizabeth II. A fellow horse enthusiast who just by pure coincidence happened to be staying there, he heard the clattered of hooves drawing near through the open window.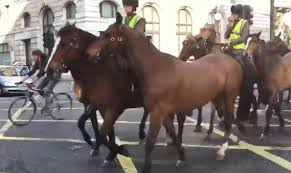 She leaned out the window to see the emerging horse guards trotting past, each rider with two bridled horses in tow. She said that for about 30 seconds she thought she had lost her mind or had been transported back to the 19th century. What a sight that must have been! In fact, this is called the watering-order.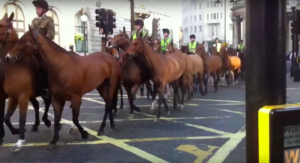 It goes back to the days when they took the horses to the troughs around London before plumbing. In those days it was three times a day, nowadays just early mornings. Anyway, it is a wonderful sight to be seen. Watch the video for more.