This moment is worth everything! 

?

?
Now the expression 'Why the long face' does not fit for this donkey as he is very happy. The donkey got stuck in the rising floodwaters in Ireland on a property in Killorglin. They believe the donkey got scared and wondered off because of the strong winds that blew down the gate of its paddock. Suzzane Gibbons spotted the animal and immediately sent a call out for help on Facebook.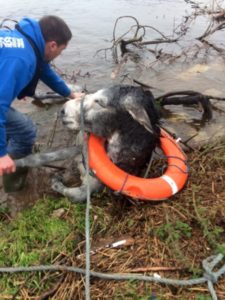 "Code red … there is a donkey stranded in deep flooding in Killorglin. I need a boat and men to help," she wrote. The donkey did not know how to swim and needed instant help and fortunately a local man called Mike Fleming and another man responded to the call. They took a boat and went to the poor animal which was standing on high ground, surrounded by water and very scared.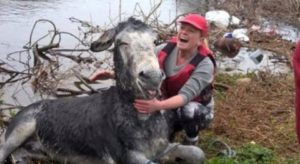 They used a rope and life saver to save the donkey and the succeeded. Their rescue operation ended up with big success and the donkey was returned to his owner. Now, his owner is very happy and taking good care of the donkey but it seems that even the donkey is not less happier after the rescue. Watch the video and smile on the donkey's face after the rescue!