There are no words to describe this moment!
What you are going to watch in this video is one of the most exciting records ever documented. You cannot believe how emotionally intelligent horses are and how a horse feels 'special children'. The child in this video suffers from Williams Syndrome.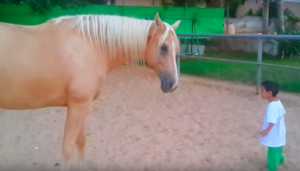 They are loving, affectionate, very cordial and enjoy the attention but one of the problems among these patients is that they do not know the right way to initially make the contact. The video shows the boy to make an initial contact with the horse and how the horse responds to the child's curiosity. It is not so simple at the beginning but then the horse gets used to the speed and natural movements of the child. The child seems excited and happy with the meeting and the horse allows the child to cuddle him.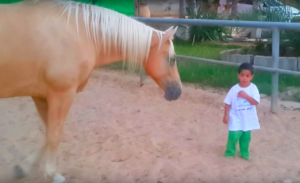 You can see the emotional power between the horse and the child at those moments. The horse follows every movement of the child and allows the child to approach him. When the boy is close to him and hugs his leg the horse did not change the angle for a moment. The horse is always being attentive to the child's movements even when he seems to just stand or rest. Watch and enjoy it!