It's time to explore the world! 

?

?
What you are going to watch is a clip showing the twin's first day out with their mother, Daisy. It was the first day when they let Daisy out with their two foals. The owners never had a mare having to look after two foals and they were not sure how Daisy would act because she had been in the stable for six weeks while Duet got strong enough so that she could run.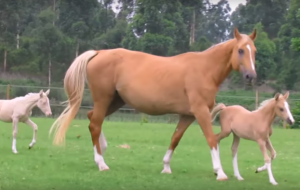 Would Daisy be aware of her second baby? In fact, she was a really good mum and went all along with her babies. Quixote stayed at her side and Duet kept getting distracted and then would canter to catch up. They were not out for long and the owners stretched their time out until they got used to it.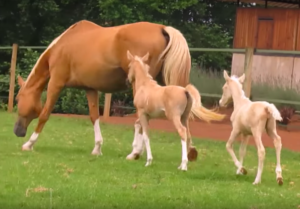 Now, they go out with other mares and their foals and the twins always stick together. When a new mare approaches they immediately go to Daisy whose presence in the paddock is really noticed and nobody dares to mess with her babies. Watch it!