He wouldn't move from there and refused to get up! 

?

?
We all know how amazing horses can be. Their relationships with humans are really special, and they have amazing connections with them. They love to be around humans and to share love with them. What you are going to see in this video is a foal making a new friend. A girl named Sunny visited a stable and the horses were out on the pasture.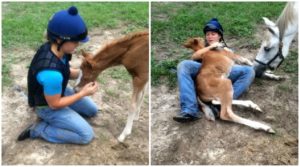 When she went there, a foal greeted her. The small, brown foal approached her and started sniffing her. The girl greeted her back and started petting him. The foal loved it and placed his head on her right shoulder. The girl laid down on the ground, and the foal relaxed his feet and collapsed in his new buddies lap. Sunny kept on petting him and the foal really enjoyed it.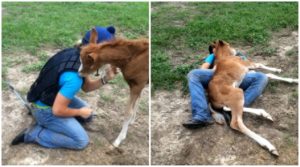 He wouldn't move from there and refused to get up. Sunny seemed alright with that and wrapped her arm around the foal. What a great relationship they developed in such a short time. Horses are great and such loving animals. Sunny also showed great character and loved the time he spent with the little foal. Watch the video for more and share your opinions with us!