Two-Way Communication! 

?

?
Newborn foals are lovely, friendly and curious. This foal is not different from others. The foal's name is Lola, and she is really chatty and cute. Lola seems to be enjoying the interaction with people. Every time the woman makes a compliment to Lola, she neighs. Lola is certainly saying thank you to the woman.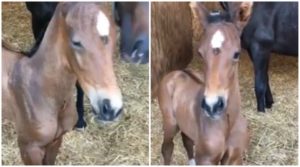 The woman continues to encourage the foal to socialize with her, and the foal loves it. She is not camera shy and loves the attention she is getting. Lola is having a friendly conversation with a human, and the mare doesn't mind it. The woman must have a really great relationship with the mare. If there was somebody else, the mare would get in between the woman and her foal and would try to protect it. We have seen many times where the mare attacks other humans or horses when they approach their foal.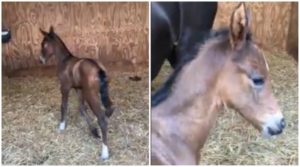 They would do anything to make them feel safe. That is how important a great relationship with a horse is. This foal is really beautiful and cute. We all agree with the compliments that the woman gives him. You will surely enjoy the conversation between the cute foal and his new friendly human. Watch the video for more and share your opinions with us!
https://www.facebook.com/official.everything.from.horses/videos/1902364190019015/